Turkey Chili – 21 Day Fix Extreme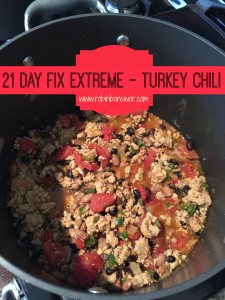 1 tsp. Olive Oil
1 1/2 lbs. Raw 93% Lean Ground Turkey
1 Med. Onion, chopped
1 Med. Green Bell Pepper, chopped
3 cloves Garlic, finely chopped
1 1/2 tsp. Ground Cumin
1 Tbsp. Chili Powder
1/2 tsp. Himalayan Salt
1/4 tsp. Cayenne Pepper (to taste, optional)
2 (15 oz) cans Black Beans (or Pinto), drained, rinsed
1 (15 oz) can All Natural diced Tomatoes, no sugar added
12 fresh Cilantro sprigs, finely chopped (for garnish, optional)
Heat oil in large saucepan over medium-high heat.
Add turkey, onion, bell pepper, and garlic; cook, stirring occasionally, for 5-8 minutes, or until turkey is no longer pink.
Add cumin, chili powder, salt, and cayenne pepper; cook, stirring constantly for 1 minute.
Add beans and tomatoes (with liquid). Bring to boil. Reduce heat to low; gently boil, stirring occasionally, for 15-20 minutes, or until thickened.
Serve warm, sprinkled with cilantro.
Makes six servings, 1 cup each. 1/2 green, 1 red, 1/2 yellow