Test Drive a Healthy Lifestyle
Test drive a healthy lifestyle?  What does that mean? Why would you do it?  If we think about it, we live in a world that likes to "test drive" many things before we fully commit to them.  We take cars for a spin, we walk through and closely inspect houses before buying, we try on clothes and shoes to see that they fit, etc.  We want to know what we are getting before we go all in.  So why not do the same with a healthy lifestyle?
This is the exact reason why Beachbody has developed a new program called Clean Week. Clean Week is a 7-day nutrition and fitness program that takes you step-by-step through the process of creating a healthy lifestyle.  It is available exclusively on Beachbody on Demand and is a great way to "dip your toe" into healthy and fit living, without getting overwhelmed.
A Quick Overview
Clean Week is basically a "one-stop shop" to give you a good trial of a healthy lifestyle.  It includes both fitness AND nutrition instruction.
The fitness instruction is lead by trainer Megan Davies.  These workouts consist of four 30-minute routines, each one concentrating on a different foundation of fitness (cardio,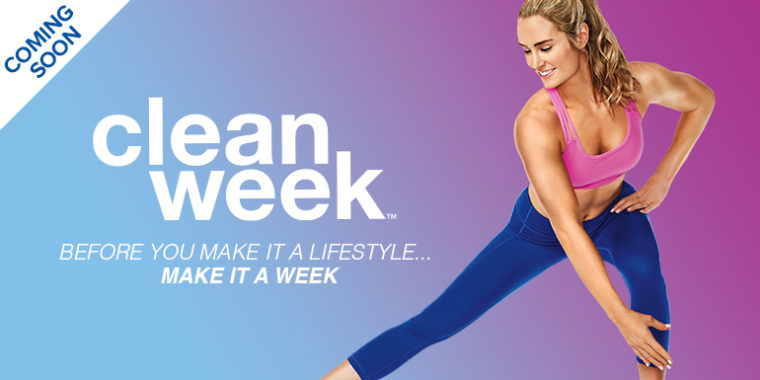 strength, core function, and flexibility.)  One workout is done a day that will provide a full week of not only well-rounded fitness, but fun too!
Although the fitness aspect is important to living a healthy lifestyle, proper eating is important as well.  That is why Clean Week includes nutrition instruction too!  The program gives you a step-by-step details on meal planning and preparation.  It is NOT a "count your calories and have to buy lots of special foods" plan. Instead, it properly instructs you on WHAT is healthy and nutritious to eat, how to PLAN your meals,  and how to PREP for the meals.  This gives you the leg up to have SUCCESS in starting healthy eating!
And of course, the plan does include Shakeology.  If you are not familiar with Shakeology, it is Beachbody's daily dose of dense nutrition drink. And let me tell you, it has played a HUGE part in my success in losing weight, maintaining that weight, and keeping me feeling good overall. You can learn more about Shakeology HERE.
The Details
The Clean Week program includes :
4 easy-to-learn workouts
the Clean Week Meal Planner
a quick start guide
a 7-day Shakeology sampler
You can get all of this for only $29.95!
Beginning in September, the workouts that go along with Clean Week will be available for streaming exclusively on Beachbody on Demand.  Not sure what Beachbody on Demand is or want to know more?  Click HERE.
Who Is This For?
Clean Week gives you all the tools you need to start losing weight, getting in shape, and kick-starting healthy habits that last a lifetime.  If you have been considering stepping into the world of fitness and healthy eating, this is the PERFECT program for you.  It's a great way to be taught what to do, with out getting overwhelmed.  You test out your cars before committing to buy, why not test drive a healthy lifestyle too?
Ready to try out this out?  Order your supplies HERE.  (For Vegan, order HERE.)
If you have any questions regarding Clean Week, Shakeology, Beachbody on Demand, or just fitness in general, please let me know!  I'd love to help you in any way I can!  You can contact me HERE!