May Fitness Calendar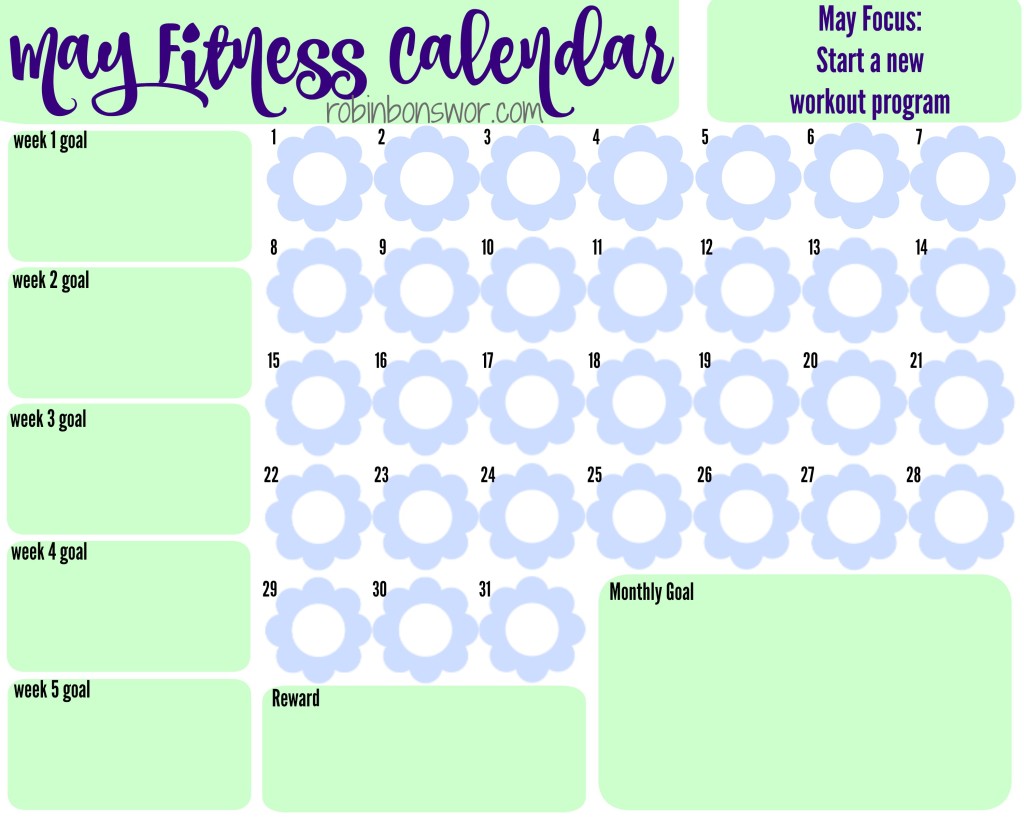 Use this May Fitness Calendar to track your progress.
May Focus: Start a new workout program
Avoid a weight-loss or fitness plateau by varying your workout regimen. It takes your body between three and 12 weeks to get used to new exercise, and the fitter you are, the shorter that time frame. You want to experience a little soreness from your workouts, so as soon as you stop feeling that, it's time to switch things up. Head over to Beachbody On Demand for new workouts that will keep challenging your body to get stronger.
HOW TO USE THE MAY FITNESS CALENDAR:
1. Come up with one Monthly goal to focus on.  This is entirely up to you. This could be something you'd like to do every day to develop a new habit, or something you want to avoid doing.  Either way, if you can stick with it for 30 days, you'll be well on your way to having a new habit.  Use a symbol (*, x, M, your choice) each day that you do it.
2. Pick your minimum exercise goal.  My personal minimum is 5 times a week for 30 minutes. I usually do 7 days (one day being an active rest day of stretching). If I get in at least the minimum, I know I'll keep it up. Make sure this is something that you will be able to do no matter what.
3. Each day you exercise, mark it off on the calendar.  You can simply put a checkmark, or write details about your workout.  I like to write it down to plan it out (if I'm not following a program) and then check mark it when I complete it.
4. In the Weekly Goals box, come up with a small goal to focus on each week.  Again, this is your choice and doesn't necessarily have to be an exercise goal.  Some examples:  Drink water, do something I love every day, eat breakfast first thing in the morning, read a personal development book or the bible, etc.
5. Come up with a reward for completing your minimum exercise goal for the entire month, and write it in the Reward Box, or reward yourself each week–it's up to you! I like to reward myself with fitness equipment, new workout clothes or new programs! ?
My monthly goal for May is to get to stick to my meal plan.
WANT MORE ACCOUNTABILITY?
Join my Shape Up for Summer accountability group that is starting 5/2 and a second one starting 5/23.
FITNESS + NUTRITION + SUPPORT = SUCCESS
The group commitment is 30 days doing the workout of your choice (I can make a recommendation based on your needs and likes), Shakeology once a day, and the Challenge Group spot for accountability and support. We all work together and help each other!  This is a proven and simple formula, and those who commit are much more likely to finish and GET THE ABSOLUTE BEST RESULTS!
—You do everything at home, on your time and your schedule. No in-person meetings or group workouts.
—Group interaction is all done on Facebook, so you can post along with the team each day.
When you bundle Shakeology and a Program together you save BIG! For more info on the accountability groups, click here. And please contact me if you need help selecting a program that is right for you: robin.bonswor@cox.net.