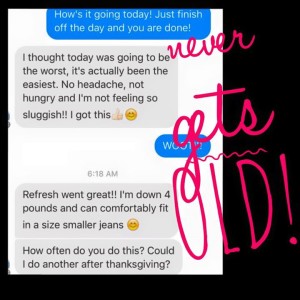 It never gets old! I'm blessed that I get to help people everyday. And I have reaped so many rewards because of it!

Before and After – Thanks Beachbody!!
This is so much more than what it looks like. This transformation is more than physical. It's mental. It's financial. It's great for me to be home for my family! I GET to help people feel better about themselves – so dang rewarding! I also have earned trips – Disneyworld, Cancun, and a cruise with the family in March!
It might not be for everybody. But it's for me! It could be for you too!
And believe me, I had my own slew of objections that I was throwing out before I started.
I'd like to invite you to my team's sneak peek into coaching where we share with you what it is really like. We show you that you don't have to be your ideal fitness level, you don't have to be a nutritionist, eat clean all the time or be a trainer, you don't have to sell anything, you don't have to have a garage full of inventory and you don't have to meet any quotas! What?!?! I know, it's true.
No obligations. Just hang out in a private FB group and read some posts/watch a few videos! Super easy! https://www.facebook.com/events/1625605111032770/
Before you do that tho, watch this webinar.