Getting fit.  When you hear that, you usually think about it applying to just yourself.  But why not get fit as a family?  No one is ever too young to learn about fitness!   In fact, the sooner a person learns to create healthy habits – in their diet and exercise – the more likely they are to keep those habits up throughout their life!  So NOW is the time to teach this to our children!
But let's face it.  We all have good intentions of getting out as a family to get exercise. We plan to go hiking, bike riding, swimming, etc.  But work, friends, the weather, and just life in general can get in the way.  And the cost, time, and effort put into getting everyone to the gym is often just not practical.  How easy would it be to just gather in the living room, press play, and spend 30-45 minutes each day getting that workout in? And all the while having fun spending time together!
Beachbody Kids and Family Channel
That is why I am SO excited to tell you about Beachbody On Demand's exclusive Beachbody Kids and Family channel!  This is a collection of cardio and low-impact workouts that can be enjoyed by the entire family!  These workouts are done to fun dance moves as well as low-impact moves from Tai Cheng.  They are led by expert trainers including Tony Horton, Shaun T, and even maternity workouts from Autumn Calabrese.  There really is a workout for everyone!
And Beachbody is always adding new programs throughout the year.  Just this month, a new program called YOUv2 was added – which is an easier program with only a few simple moves that anyone can do.  But it also includes a separate kids' section, which is ONLY available on All-Access Beachbody On Demand.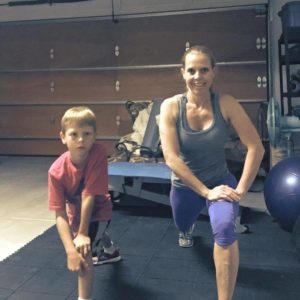 This channel gives parents the perfect opportunity to include their children in daily workouts.  Doing this every day as a family can show your children the importance of staying fit, and helping them turn it into a habit for the rest of their lives!
Summer just around the corner.  Why not decide now to make your family's fitness a priority! There are  many ways that you can do this, but Beachbody makes it easy, affordable, and fun to do all together!  Getting fit as a family CAN be done!
If you would like to know more about the Beachbody Kids and Family channel, or want some more tips on working out with your kids, please send me a MESSAGE!  I'd love to help you and your family in any way I can!