Exciting News – All Access Pack
ALL ACCESS
I was LIVE on 
my page
 yesterday with ALL ACCESS info. This is too exciting not to share!
I'm starting with the BEST news…
Beachbody has just announced they will release the NEW ANNUAL ALL-ACCESS BEACHBODY ON DEMAND MEMBERSHIP on December 27, 2016! This membership will give you the ability to live stream EVERY program available on Beachbody On Demand 24/7 PLUS all future releases. For a limited time, the All Access Challenge Pack is $199.00—includes *a one year Beachbody on Demand membership
*a 30 day supply of Shakeology
*one set of Portion Fix food containers
*an eating guide
*one large blue container
*one shaker cup
OR
you can just purchase a standalone membership for $99.00. (Current Beachbody On Demand members can easily upgrade to All Access!)
Comment below or email me at coachrobinb@gmail.com and I will make sure to get back to you with a link to this amazing offer on the 27th! THIS IS ONLY AVAILABLE AT THIS PRICE FOR A LIMITED TIME!
2017 HEALTH BET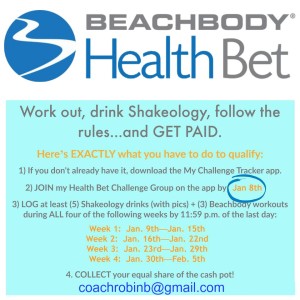 I also wanted to let you know that my next challenge group will start 1/2/2017 or 1/9/2017 (your choice)!!!
In addition, I can help you with accountability and camaraderie with others striving to CRUSH their goals, just like you!  Contact me to enter to win an equal amount of the prize pot (minimum $2,000,000…up to $3,000,000) just for working out and drinking Shakeology for one month! So see the graphic for all the details. And let's do this! CLICK HERE to connect with me!