End of the Year Challenge
End of the Year Challenge
Did you know there are only 13 weeks left in 2017?? Seriously? I know, but yes, seriously only 13 weeks…..maybe it's time to consider an End of the Year Challenge.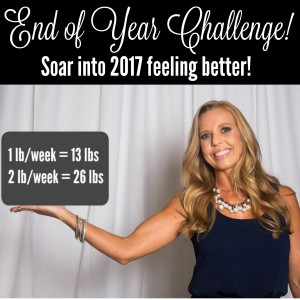 So let's think about this for a minute….
Did you set goals this year? Have you reached them? Are you going to commit and make it happen to feel better, to lose the weight, to be happier because you did something for you or are you gonna be in the same place you were last year? You don't have to be in that same spot….you don't!
Soar into 2017!
You can safely lose from 13-26 pounds in the next 13 weeks and feel amazing for the holidays and going into 2017!
Listen…I am alllllllll about balance…. I enjoy myself during the holidays! Yes I do! And you can as well….I will teach you how in this end of the year challenge! I will give you my tips, tricks (they aren't really tricks), show you how to enjoy and still reach your goals! That's my job as a coach
Maybe you are thinking…
~~I'm too far gone. *No you are not. You have to start somewhere and now is the time to feel better!
~~There's not enough time. *I have tips for this one too 😉
~~I don't have enough money. *Let's make a deal, okay? Try it for 30 days and if you aren't satisfied, you get your money back.
You can still commit and feel better and reach those goals… It is time to make the commitment to your health and yourself! I'm here for you, to help you!
So, here's the deal, I am looking for 5 women who are ready to change their life, who are ready to reach their goals and join me in this End of the Year Challenge. It is not easy, but it's worth it. PROMISE (remember money back guarantee if you aren't satisfied)!
So, if this seems like something you want to commit to, fill out the form below, send me a message or comment with your email! coachrobinb@gmail.com
You can also find out more here! And if we aren't friends on Facebook send me a friend request! I also have a Facebook Page where I share tips, recipes, and sometimes just funny stuff for busy moms.
Let's make the rest of this year count together!