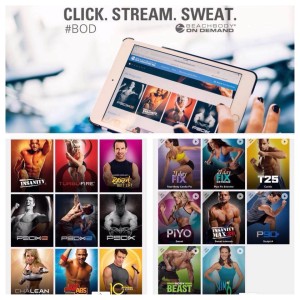 Do you want to get fit, lose weight or just feel like you again? Then try out a Beachbody On Demand membership. With unlimited access to hundreds of workouts in our digital library, Beachbody On Demand is a one-stop shop for all your workouts.
Something for Everyone
Whatever your fitness goals are, you can accomplish them with the help of a membership to BOD.  You can lose weight with INSANITY® or get ripped with P90X®.   You can burn serious calories with TURBOFIRE or Make the SHIFT with SHIFT SHOP.
Do you want to get the kids involved?  There are even some programs such as YOUv2 with a dedicated kid's channel that is designed to get the kids moving and exercising too!  There truly is something for everyone.
Convenient
Beachbody on Demand is so convenient – you can stream your workouts from your laptop, tablet, or mobile device.  So this means that if you have internet access, you have all the workout programs!
Whether you're traveling for work, on vacation, or would just rather do your workouts in the gym, now you can bring your workout programs with you wherever you go.
The Total Package
And it is not just workouts… it is the total package.  With Beachbody On Demand, you get the workouts plus step-by-step program guides, workout calendars, nutrition plans, and MORE —all online! Everything that makes Beachbody programs the #1 home fitness programs on earth!
Also, with your membership, you will have immediate access to any and all NEW programs the DAY they are released – no waiting!
Memberships can be purchased for 3-month access or 12-month access (a better value!).
Doesn't that sound great?  It's probably because it is!  Click HERE to find out even more about Beachbody On Demand, and how it can help YOU get to your fitness goals.
Would you like a customized fitness plan based on your workout preferences? Click Here!