Check it out – the Coach Sneak Peek!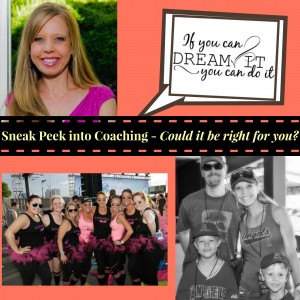 Have you heard me talk about being a coach and wondered what it is I do? Or maybe you wonder why I talk about fitness so much?
Take a "sneak peek" into what I do as an online fitness coach, what it's like on our team, and how I've turned it into a successful business where I get to work my hours (around my family schedule), with people I want work with and where I am building my dream.
Don't worry. There will be no high pressure tactics used on you. I promise. You can be a fly on the wall or participate as you choose. This is where YOU decide if you like what you see and if you choose to join us. No obligation. We do all the "peeking" through Facebook!

Did you know that you don't have to be at your perfect goal weight or be a fitness trainer to be a coach? It's true. You just need to be interested in your own health and fitness, interested in helping others and a desire to succeed.
If this interests you, follow this link, complete the form and I will be in touch with the details on how you can join us.
Or comment below or send me a message and I will send you all the info you need to get to check us out!
This group is only for those who are NOT yet coaches and interested in exploring the opportunity before deciding if this would be right for them & their goals.