All Access is here to stay!
All Access is here to STAY!
Can you believe summer will be here in just 3 short months?? This is the perfect reason for you to join my Fit Family and I in my next group starting SOON!!
FIRST—If you're NOT already in my private Facebook group, Message Me to find out how you can be a member of the family…because I want you to do this group with us!!!
SECOND – This is the PERFECT time to get you ON DEMAND ALL Access Challenge Pack membership so you can live stream your workouts during this next group….Here's what's up!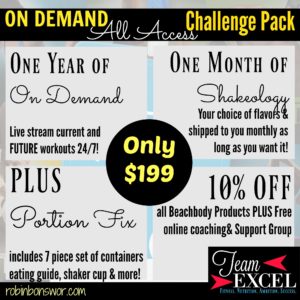 With Beachbody on Demand, you can live stream your workout—all you need is a mobile device or computer and internet access. No…more…DVDs!
BEACHBODY ALL ACCESS IS A GREAT DEAL
AND – Beachbody All Access is a GREAT deal—the pricing of all the programs that are included with membership would cost THOUSANDS of dollars more than the All Access price! (the retail value of this membership is about $6,000!) By getting the All Access Challenge Pack, you are saving $75.00 over buying both items separately.
Annual renewal is $99.95 USD/CAD and is automatic (unless you cancel before the renewal date). *All Canadian orders will incur an additional $5.00 handling fee.
NOTE—if you are already an existing Beachbody On Demand member, follow this link to upgrade to the new All Access membership—Beachbody on Demand Membership Change (please allow 5 days from for your upgrade to process). If you previously bought an annual membership, there is no charge to upgrade for the same term.