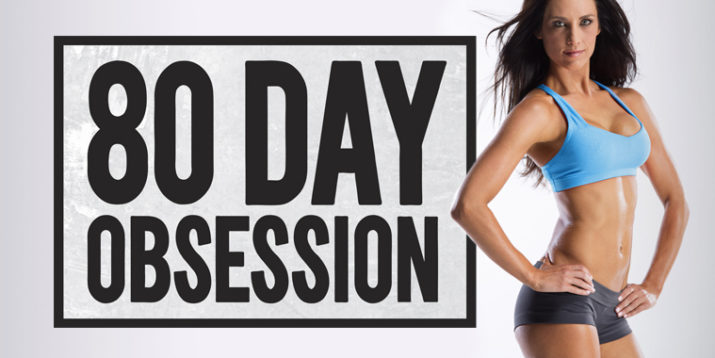 Who out there wants a shaped butt, flat abs and to burn fat? Then let me introduce you to what is bound to be my new obsession!
This program is for anyone who wants to focus on getting a firm and shaped butt, toned and flat abs, and all the while BURNING FAT.
Sounds impossible, right?  How can you be doing ALL of that at the same time?  Surely you have to separate it out and focus on each area individually.  Not so!  This new program can do all of it at one time!
If you are ready to start now, CLICK HERE!
Not Your Normal Workout Program
It is not your everyday "run-of-the-mill" workout program.  It is intense.  It's focused and targeted.  It is 80 days of step-by-step focus on fitness AND nutrition.  It will literally be 13 weeks of OBSESSION.
80-Day Obsession is the result of Autumn's years of experience of creating her own fitness programs that has helped people shape and tone their bodies, and from her success as a bikini competitor.
The intense workouts average 45 minutes in length, but some go as long as 60 minutes. They do require some equipment – small hand weights, Beachbody Strength Slides, and Resistance Loops (the last two can be purchased through my Beachbody website.)
Along with the workouts, Autumn has included a very specific nutrition program.  This nutrition regimen is timed perfectly with the workouts to give the desired results.  It will require meal prep and planning ahead.
This program will take commitment.  It will take focus and dedication.  It will take an obsession!!!  But if you are willing to go all in, you will see some incredible results – namely, a firm, shaped butt AND some of the flattest abs you have ever had!  You will end the 3 months with a healthy fit body and looking GOOD!
80-Day Obsession will begin January 15th, on Beachbody On Demand.  Each day the new workout will be posted for you to do along with Autumn and the cast.  It will make you feel as if you are right there in all the action! Click here to join my pre-launch group and claim your spot in my VIP New Year 80 Day Group in January!
A Little Obsessed
Perhaps this sounds good to you, but you  are just not sure you want to completely commit to this intense of a workout.
Great news!  There is a way for you to try it out, without giving a full commitment!
Beachbody and Autumn have created A Little Obsessed – a sort of "sneak peek" program showcasing some of the workouts done as well as a glimpse of the nutrition plan involved in the 80 Day Obsession.
The workouts with A Little Obsessed are less extreme and under 30 minutes to help you learn the moves and get you ready for the more intense 45 to 60-minute workouts in the 80-Day program.
Beginning December 20th, anyone can try out A Little Obsessed for FREE on Beachbody On Demand!  If you are not a BOD member, you can get a 14-day trial membership to see what it is all about!
Exclusive Offer
Are you a Beachbody On Demand member?  Then you can be part of a Beachbody first:  Any BOD member can try this five-day program while we shoot it LIVE on November 6-10 at 9 AM Pacific Time/12 PM Eastern time. We will leave each workout up for only 24 hours and then you won't see them again until the official release date of December 20.  But this is exclusively for BOD members!!
So, even if you aren't sure about giving it the full 80 days, try out A Little Obsessed to see what all the excitement is about.  You may just surprise yourself and commit to the whole thing!
Not sure what Beachbody On Demand is?  Find out more information HERE.