21 Day Fix – Zucchini Chips
21 Day Fix – Zucchini Chips
Oh my!
So you know how you just sometimes have a craving for something crunchy and maybe a little salty? Well these 21 Day Fix Zucchini Chips will solve that and they count as a vegetable unlike the potato and tortilla chips which count as a treat on the plan!
Yep, it's true.
This recipe comes from the new cookbook, FIXATE! This is available in July.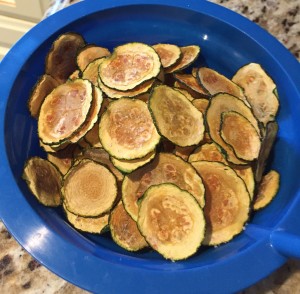 Ingredients:
2 Large zucchini, thinly sliced (I used my mandolin on 1/8″)
1 Tbsp olive oil (I used 1-2 tsp)
1/2 Tsp sea salt (I used Himalayan salt)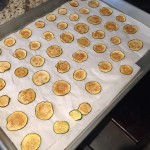 Directions:
Preheat oven to 225° F.
Place zucchini slices in one layer between paper towels to help draw out liquid. (I pressed down on the paper towels)
Line two large baking sheets with parchment paper.
Place zucchini slices on prepared baking sheets.
Brush zucchini with oil; sprinkle with salt.
Bake for 2 hours, or until golden brown and crispy.
Cool completely before serving.
Fix Counts: 1 Green, 1 tsp
Link to the Fixate Cookbook – coming soon!
Join my next 21 Day Shape up and see great results!