21 Day Fix – Chicken Enchiladas
21 Day Fix – Chicken Enchiladas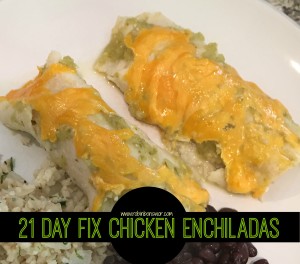 Oh – Em – GEEEE! I love Mexican food! I thought I was doomed to never eat enchiladas again on the 21 Day Fix, but I was WRONG!! These 21 Day Fix – Chicken Enchiladas are AMAZING!!!
Busy Moms, make this recipe for the family and they will love it!!! So here it is!
Homemade Green Enchilada Sauce (adapted from Pinterest here)
-1 Tsp Olive Oil
-1 Small Onion – sliced (I used 1/2 a yellow and 1/2 a red onion)
-3 Garlic Cloves – minced
-1 Green Bell Pepper – seeded
-1 Jalapeno – seeded
-appx 8 tomatillos – husked & rinsed
-1/4 bunch of cilantro
-1 tsp. salt
-1 tsp. cumin
-2 c. chicken broth
In a large pot saute onion and minced garlic in the olive oil until onions are transparent, and both smell wonderful. Meanwhile, while that is sauteing grab a blender and start cutting and seeding your veggies and husking the tomatillos. Place them all in the blender. When onion and garlic is done, add those in the blender as well. Blend all the veggies and chicken broth together, leave out the salt and cumin. Blend until smooth. Transfer the blended sauce into the large pot, add the salt and cumin. Simmer on medium for 10-15 min or until desired consistency.
Putting it all together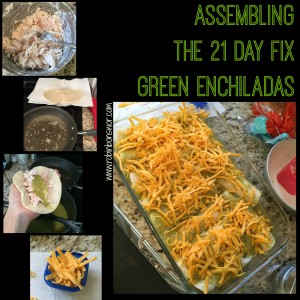 OTHER INGREDIENTS:
-5 Red Containers – shredded chicken breasts (I used rotisserie chicken and shredded it up)
-1 Red plain Greek Yogurt
-12 – 6″ corn tortillas
-6 Blue Containers shredded cheddar cheese for topping
-Optional additions – cilantro (free food), olives (orange container)
Black Beans (yellow), Cauliflower Rice (green)
DIRECTIONS:
Preheat oven to 350. Layer bottom of 9×13 pyrex with green enchilada sauce.
Mix chicken and greek yogurt. Spoon 1/2 Red Container of mixture on warmed corn tortilla and roll up. You can also dip tortillas for a count of two on each side in simmering low sodium chicken broth and drain on paper towels for moisture and flexibility. Spoon a bit more enchilada sauce inside. Line rolled enchiladas in baking dish, cover with enchilada sauce ans sprinkle on cheese. Cover with foil. Bake for 15 minutes covered. Remove foil and bake another 5 minutes until cheese is melted and heated all the way through.

I used almost all of the sauce and the enchiladas were very juicy. If you prefer less juice, you can probably half the recipe or better yet, make the batch and freeze the other half for another time!!! 🙂
Makes 12 enchiladas (2 per serving)
1 red – chicken & greek yogurt
1 yellow – 2 corn tortillas
1 green – enchilada sauce
1 blue – shredded cheese